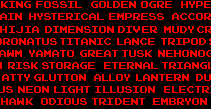 One of the most important facet of shoot'em-ups since the mid-Eighties is the boss. Indeed, I think I can safely call the Darius games the monster movies of the shoot'em-up genre. And so, I present the master list of all Darius bosses so far. So you don't have to look for them per game. Now say thank you, you ungrateful critter.

You are also encouraged to meet the heroes, who spend a lot of time blowing these fellows up.





Home | Darius Games | Main Boss List | Contact






The Darius series of videogames are copyrighted 1986-2004 by Taito Corp. In addition to this, the text and doctored images on this page are the intellectual property of Arun S. Rajkumar.